LOCSS Partners Add 50 New Lakes in Bangladesh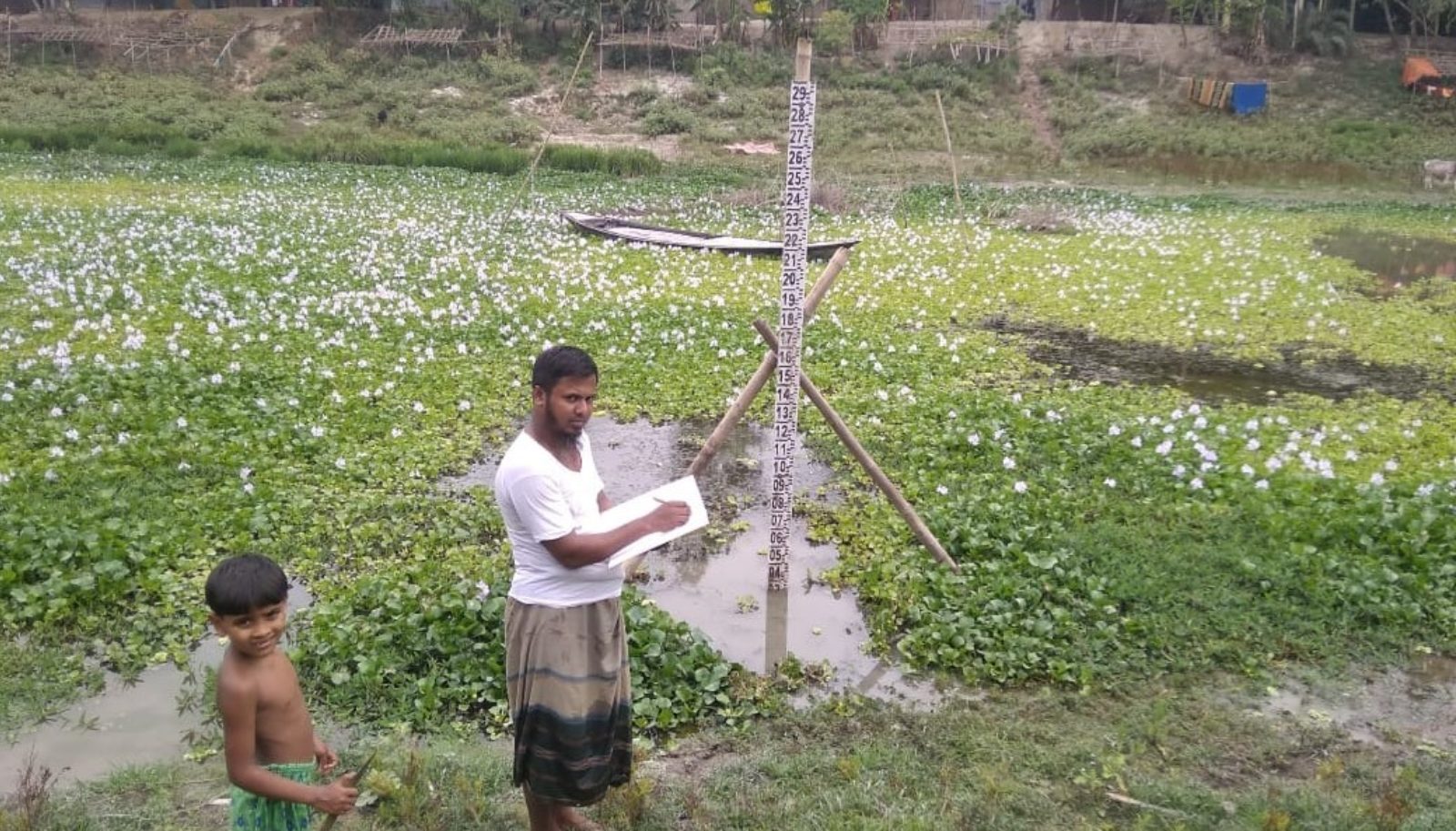 Local partners making a lake height measurement for Gajna Beel haor in Bangladesh
After promising results from the 4 original LOCSS study lakes in Bangladesh, local partners have self-financed the installation of gauges at 50 additional lakes.
In recent months, our partner, Bangladesh Water Development Board, has been hard at work installing new lake gauges to 50 more haors, or seasonal lakes, in Bangladesh. This recent decision to expand to more lakes and areas of Bangladesh came after observing the results from the original 4 haors installed in Bangladesh. Since their installations in May of 2019, Balashur, Dekhar Haor, Korchar Haor, and Rarikhal have collectively obtained almost 270 measurements! A study involving two of these four original lakes in Bangladesh proved to find important information about the nature of haors in the country. The study found that the total volume of water in these haors changed greatly throughout the year. The haors were largest during the peak of the monsoon season where water volume increased almost 400% from May 2019 to July 2019 as a result of the rainfall. The results of this study were part of the motivation to expand lake water monitoring to 50 more haors in the country. More about this research can be found here.
Understanding the volume changes in haors in Bangladesh is important to consider when implementing water management practices that ensure that the livelihoods, ecosystems, and natural environments of Bangladesh get the water they need. This expansion to many more lakes in Bangladesh, which is led by BWDB Executive Engineer Arifuzzaman Bhuiyan and self-financed entirely by BWDB, will help Bangladesh water management officials get a better understanding of how surface water resources change over time around the country. The LOCSS team will provide the technical support for processing and analyzing the data for a more country-wide assessment of surface water storage trends.
LOCSS is excited to welcome these 50 new haors into our study and looks forward to helping the BWDB monitor these new study sites. Data for all of our study lakes in Bangladesh can be found here.