Meet a Citizen Scientist: Don Wilson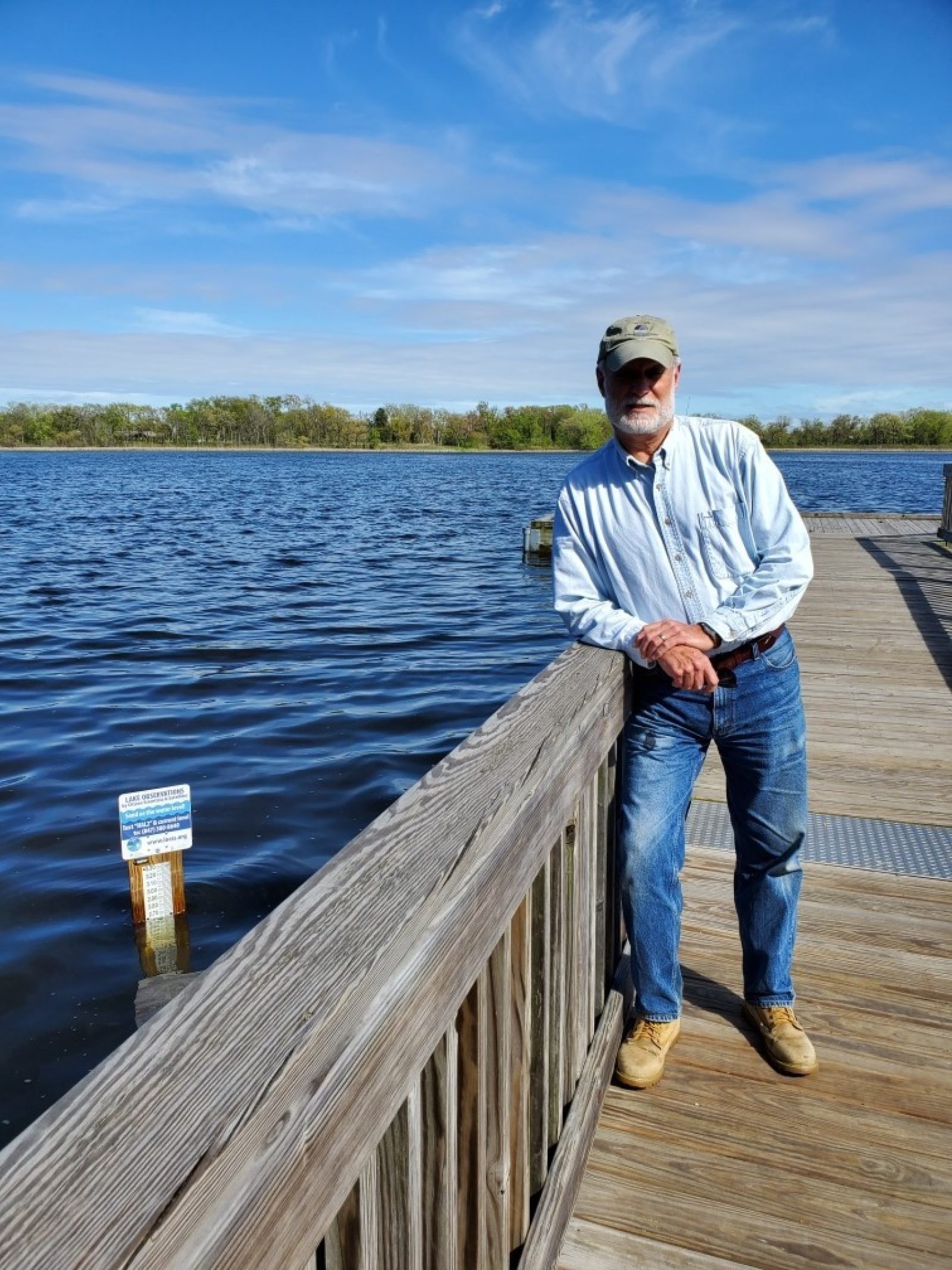 Don Wilson LOCSS Picture
Don Wilson is a LOCSS citizen scientist in Illinois. Learn more about him, and why LOCSS interests him.
In May 2019, a group of LOCSS team members travelled to Illinois to begin studying lakes in the northeastern part of the state. We installed gauges in 14 lakes on that trip, and have since expanded to a total of 18 study lakes in the state. Our project quickly drew local interest, and we began working with some very dedicated volunteers. One of these citizen scientists, Don Wilson, began reporting lake height measurements for two lakes, Hastings Lake and Timber Lake (also called Huntley Lake). We spent some time getting to know Don recently, and wanted to introduce him to you.
LOCSS: How did you first hear about the LOCSS project?
Don Wilson: I'm a volunteer lake monitor for Lake County Health Department, part of the Volunteer Lake Monitoring Program (VLMP), which collects data on color, clarity, depth, temperature and dissolved oxygen. I've been doing that for about five years now, and this was just a logical sequence to monitor changes in lake levels.
LOCSS: What other citizen science projects have you been involved with?
DW: Aside from the Volunteer Lake Monitor Program, I am also steward at Illinois Beach State Park and at a Lake County Forest Preserve. I'm a plant monitor for the Chicago Botanical Garden Plants of Concern program , a dragonfly monitor for the Illinois Dragonfly Monitoring Network, and I count calling frogs and toads for Bird Studies Canada.
LOCSS: How long have you participated in citizen science projects?
DW: Almost 40 years.
LOCSS: Why have you participated in LOCSS and other citizen science projects?
DW: I have a degree in biology, and when I graduated from college I would have liked to have gone into natural resources, but there was no pay, so I went to work for a pharmaceutical company instead. I'm retired now, so this is like doing the job that I've always wanted to do. I'm learning a lot, and I'm using my mind and memory!
LOCSS: What have you enjoyed most from the LOCSS project?
DW: I've just enjoy being out in the water and observing the changes in lake levels. It really ties into my lake monitoring. I take my canoe out, and I just enjoy watching the changes—this time of year the fish start to spawn, so I'm looking for spawning beds, and I'm looking for invasive plants and differences in color clarity between the two lakes.
LOCSS: Which lakes in Illinois have you studied so far?
DW: Hastings Lake, which is in Lindenhurst, and Huntley Lake, which is in Antioch Township. They are both glacial lakes, so they are very similar in structure. These two lakes are really close to home which make it convenient to lake level readings.
LOCSS: Anything else you would like people to know?

DW: I just think this is a great experience. It's a great opportunity to watch the lake levels and look at them from a different perspective, and there is so much to see. I started off watching birds first, then I moved on to plants, then to restoration, and now I'm in the lake business. I just think lakes, creeks and streams are really overlooked by the public. This is really just a neat project that anybody can do.
Many thanks to Don for for all he has done for these lakes. His dedication to this project specifically, and lakes more broadly is inspiring. LOCSS could not begin to understand the lakes we study without the help of dedicated citizen scientists like Don. Thank you!