Meet a Citizen Scientist: Hanne Thiede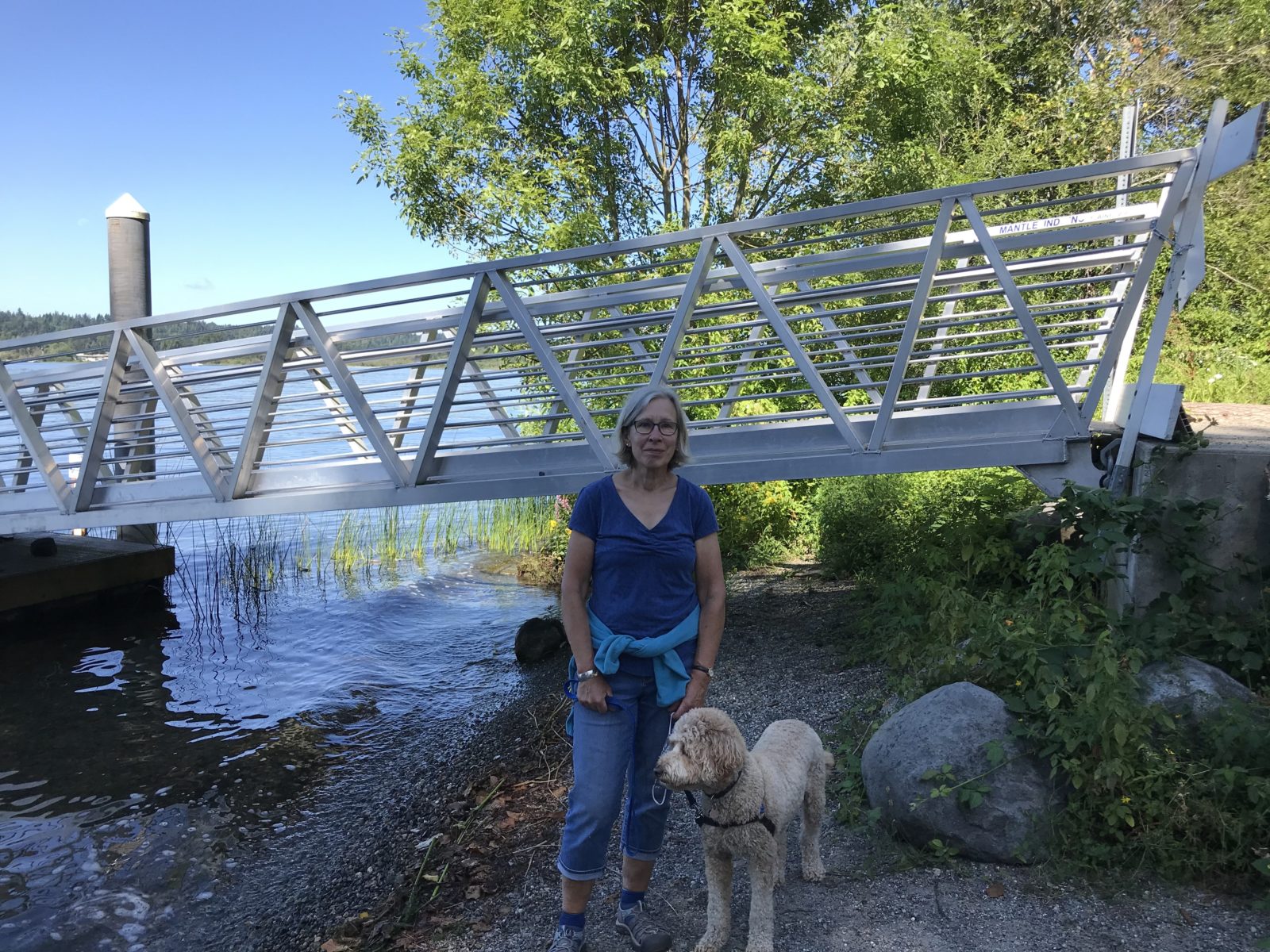 Hanne Thiede and her dog, Griffey, on the shore of Lake Sammamish, Washington
Lake Sammamish is a large lake just east of Seattle, Washington. It measures nearly 8 square miles, and its roughly 20 miles of shoreline are occupied by both private residences and public parks.
In September 2018, LOCSS team members installed a lake gauge at Sammamish Landing Park, on the northeast side of the lake. Soon thereafter, we began receiving lake height measurements from local citizen scientists.
Hanne Thiede is one of the citizen scientists who began sending in measurements for Lake Sammamish. LOCSS team member Hailey Galit recently spoke with Hanne about her experience with LOCSS, the pandemic, and her involvement and interest in science.
Hailey Galit: Hello Hanne! Please tell us a bit about yourself, are you originally from Washington?
Hanne Thiede: I'm originally from Denmark, but I moved to Washington state in 1979 with my husband who is from this area. I love Washington state and all of its outdoor opportunities. It's just a beautiful place to be.
HG: Yes, I can imagine! How have you been doing during this pandemic?
HT: I'm very fortunate, because I am retired and there is no problem with me protecting myself. I am very fortunate to also live in an area where I can get outdoors, so I am very grateful for that.
HG: Me too. So how did you hear about this project?
HT: The way I found out about this project is how I think a lot of other people found out about it. I initially saw the gauge down by Lake Sammamish, which is close to where I live. I thought it was interesting when I saw it, and it said to text the lake level. I did, and I got a message back. I looked at the website, and that's how I found out about the project.
On the website I also looked at which other lakes were included in the study and found that another lake called Beaver Lake was also a part of LOCSS. That's another place I like to walk my dog, so I thought I might as well report from Beaver Lake, too. With the pandemic, they closed off the access to the dock on Lake Sammamish where I would read the gauge normally. It's still closed off now, so I waded out into the water to read the gauge and submitted a reading.
HG: So you have typically done reporting from both of those lakes?
HT: Yes, ever since I found out about Beaver Lake, I thought I might as well report from both.
HG: When did you first hear about the project?
HT: You know, I think it must have been 2018 in the spring when I found that first gauge. I only found out about the project, because I found the gauge. I hadn't seen any information about it from the City of Sammamish Parks and Recreation, and I noticed for Beaver Lake, there aren't many people who report from it.
HG: Oh, that's really interesting. What do you think is the best way to get the word out about this project?
HT: A lot of people subscribe to the local city online parks and recreation newsletter here where they list volunteer activities. It could be nice if there was some information about it there, especially if you would like to have more reports.
HG: I'd also like to know why you have continued to participate in LOCSS and what makes you want to continue sending in measurements after being a part of the project for two years? What keeps you going back to record these measurements?
HT: Well, I am really interested in the outdoors, environmental science, and citizen science. I find it is something that is very easy to do. I also have a relationship to Lake Sammamish as I have been rowing on the lake since 2003, two or three times a week. I know that it is a suburban lake with homes that are often built too close to the shoreline, so there are all sorts of environmental issues. There's a population of Kokanee salmon that is threatened and currently, there are a lot of efforts in trying to increase the population. In the summer, there is a lot of powerboat traffic that harms the shoreline. I am really interested in the health of the lake in general.
HG: With many of our volunteers, it seems like having this type of intimate relationship with their local lake(s) a common theme. I feel that many people have that same spirit of environmentalism and want their lakes to maintain their natural environments or even return back to the way they once were.
HT: Yes, I see that too. We have a nice trail that goes along the east side of Lake Sammamish and it's one of those Rails-to-Trails projects. It caused so much debate and controversy for so many years among the people who lived there, but it's a place I often bike and the gauge is actually off of this trail.
Also, after I retired, I did native plant steward training with the Washington Native Plant society. They offered training last October with the city of Sammamish and provided 100 hour trainings to get stewards to adopt habitat restoration sites. This is another thing I am involved in locally. It's another citizen science environmental project and it's been really gratifying to have that during the pandemic, because we have been allowed to continue working on our sites with a limited number of stewards and are able to have people spread out. So many other things were closed, even trailheads, so it's just been something normal during the pandemic where you can actually see other people at a distance.
It's the same thing with the LOCSS project where it's something you can continue during the pandemic, and I really appreciate that.
HG: We really appreciate you wanting to continue it!
HT: Yes, and there is another citizen science project I am involved in with the University of Washington, called COASST. It stands for the Coastal Observation and Seabird Survey Team. It is a really interesting project that involves beaches all the way from Alaska to California. There are two parts of the project, and one involves monitoring dead seabirds, while the other one, which I'm involved in, is actually monitoring marine debris. My husband and I have a beach we are assigned to, and once a month, we go out and do this survey where we sample randomly selected rectangles to collect and characterize marine debris. We then enter our findings into a database. And I'm so happy that in retirement there are opportunities for that type of volunteer work.
HG: Before you retired, did you call yourself an environmentalist? Was environmentalism very much a part of your career?
HT: So I was actually trained in Denmark as a veterinarian, and I practiced small animal veterinary medicine here for 9 years. Then I went back and got a Masters in Public Health in Epidemiology at the University of Washington. For the last 24 years of my career, I worked as an Infectious Disease Epidemiologist at the Seattle-King County health department. Now I look back and don't know how I spent that many years inside.
HG: And so you've been watching the world these past few months with all of this background and knowledge of infectious diseases?
HT: Oh, it's so awful. I'm actually volunteering with my old worksite doing recruitment for COVID-19 antibody surveys, and I'm hoping they get some useful data to get a better understanding of the spread of the virus in King County.
HG: Wow, that's amazing to hear about. What are you most interested in when it comes to the LOCSS project and your local lakes? Is there anything that truly peaks your curiosity or any topic that you'd like to know more about?
HT: Well the fact that the LOCSS project focuses on the quantity of water in the lakes is interesting considering we had two flood events in the last year, and one of the gauges was underwater for quite a while. I know that these changes in water level impact the populations of Kokanee salmon and shoreline habitats.
I do think it is very smart to get a lot of people to be interested in this and make them feel a part of it by educating them.
HG: Yes, it is so fun to watch all of the messages coming in from our citizen scientists. It's good to know people find joy from learning about their lakes and want to help with the efforts to better understand them. Something as seemingly small as one message can really help to gather data over time and all of a sudden, we can have this beautiful picture of an element of a lake.
HT: Logistically it must be amazing seeing all of the messages come in. And it is so interesting that it is international. I really appreciate the newsletters reporting on the gauges in France and Bangladesh and learning about what's happening there in communities that are so different to mine.
HG: Yes, it really is! I also enjoy the newsletters, and I so enjoyed talking to you today about your experience with LOCSS.
HT: It was so nice to talk to you! I hope you can stay safe.
HG: I hope the same for you! Goodbye, Hanne.
Many thanks to Hanne for working with us to better understand Lake Sammamish and Beaver Lake. The LOCSS project could not do what we do without the work of dedicated citizen scientists like Hanne. Thank you!